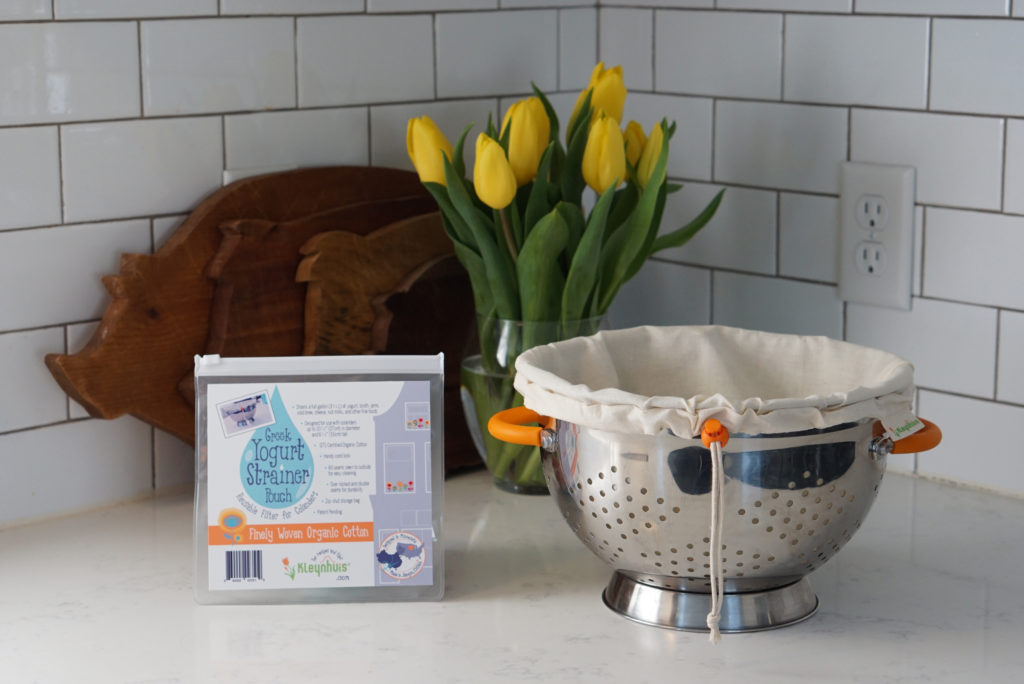 Kleynhuis Greek Yogurt
Premium Strainer Set
Key Product Features
Our perfect size colander paired with the perfect yogurt straining pouch!
5 QUART PREMIUM QUALITY 304 stainless steel colander with silicone coated handles, bundled with the innovative Kleynhuis Greek Yogurt Strainer Pouch, make this strainer set both versatile and stylish. This Kleynhuis set can strain it all: fruit, pasta, salad greens, vegetables, yogurt, cheese, juice, nut milk, and much more.
THE STURDY & STYLISH COLANDER measures 9.5 inches in diameter (inside) / 6.5" tall and has a mirror polished exterior with a brushed steel interior finish. Additional colander features: solid .6mm body thickness, horizontally bolted handles won't interfere when placing inside a larger bowl for straining, contemporary Dutch orange silicone handles for extra grip.
THE THOUGHTFULLY DESIGNED KLEYNHUIS POUCH (16"X9"–Organic Cotton) perfectly lines the interior of the colander, transforming it into an ultra-fine straining sieve, perfect for straining yogurt, cheese, and other fine foods and beverages. Additional pouch features: handy cord lock, organic cotton (GTS Certified), all seams sewn to the outside for easy cleaning, over-locked and double seams for durability, zip-shut storage bag.
NO PLASTIC TOUCHES YOUR FOOD whether you are straining veggies/fruit/pasta in the stainless steel colander or straining your freshly made yogurt with the organic cotton pouch cinched around its rim. Are you considering purchasing or currently using a colander or yogurt strainer that is primarily plastic? The Kleynhuis Colander + Greek Yogurt Strainer Pouch Set is your better solution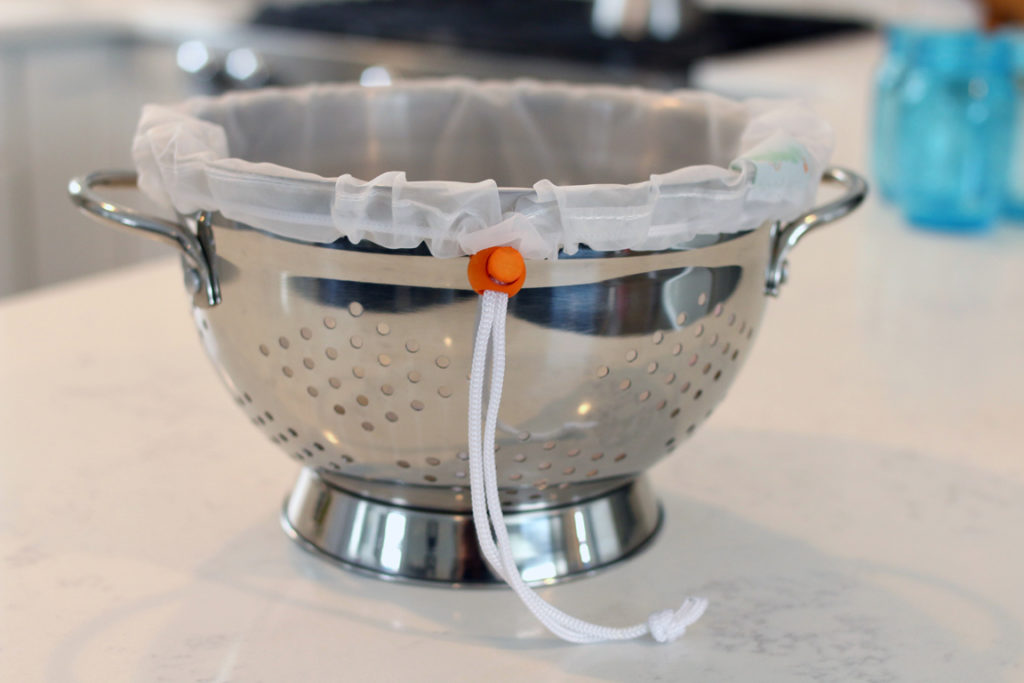 Kleynhuis Greek Yogurt Strainer Pouch
100 Micron Nylon [pouch oly]
Key Product Features
STRAINS ONE FULL GALLON (3 3/4L) of yogurt, jams, cold brew, nut milks, cheese, and other fine foods when fully open and about three quarts when cinched closed
THOUGHTFULLY DESIGNED LINER for use with most bowls and colanders up to 10.5" (27cm) in diameter and 6.5" (16cm) tall
HANDY CORD LOCK stays tight to either close pouch or conform around your bowl / colander rim. For taller bowls, you can fold the pouch over your bowl, cinch the cord lock tight, and your liquid will strain to the bottom of the bowl and you don't even need a colander!
EASY-TO-CLEAN 16"X9" pouch made of 100 micron ultra-fine mesh (the LOWER the micron number the FINER the strain).
All the seams are sewn to the outside to ensure its as easy to clean as possible. FDA food grade certified and BPA-free
PACKAGED IN CONVENIENT ZIP BAG for storing between uses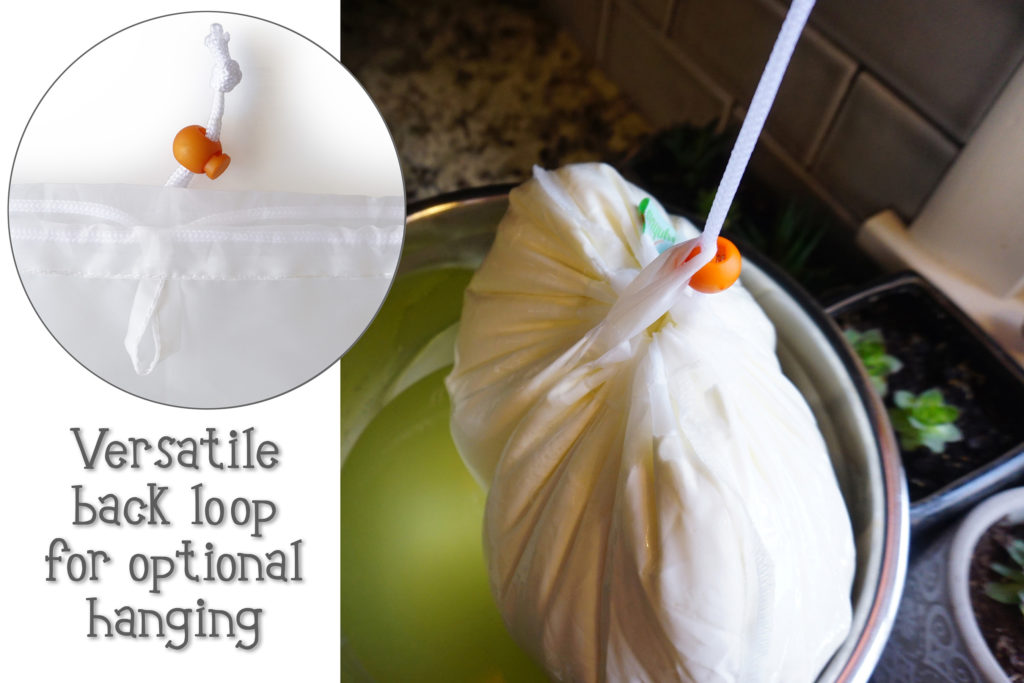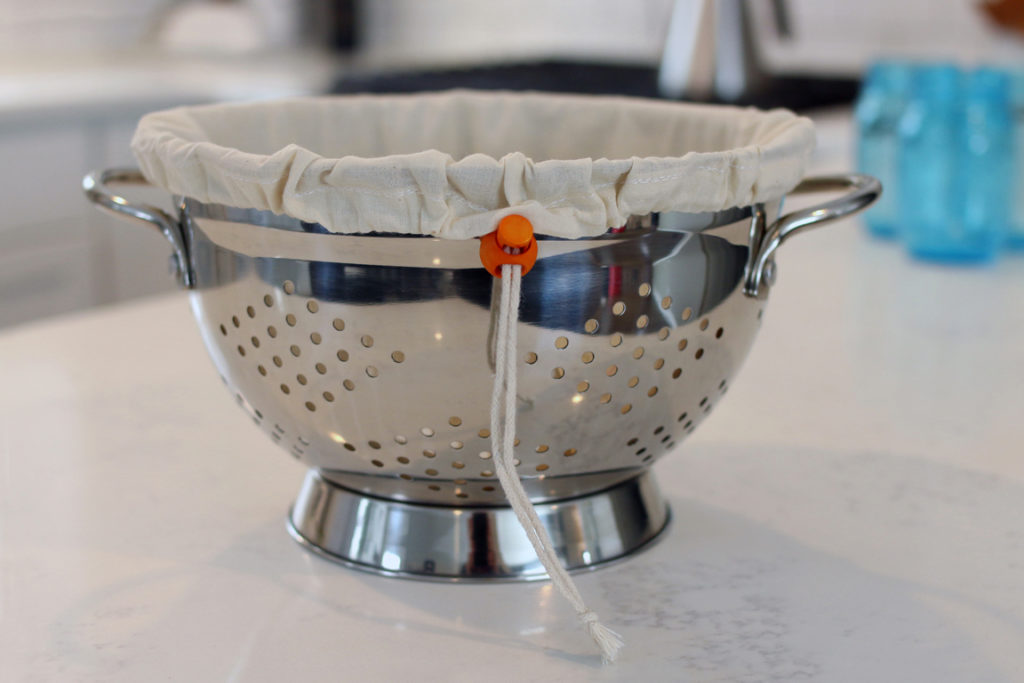 Kleynhuis Greek Yogurt Strainer Pouch
Organic Cotton [pouch only]
Key Product Features
STRAINS ONE FULL GALLON (3 3/4L) of yogurt, jams, cold brew, nut milks, cheese and other fine foods when fully open and about three quarts when cinched closed
THOUGHTFULLY DESIGNED LINER for use with most bowls and colanders up to 10.5" (27cm) in diameter and 6.5" (16cm) tall
HANDY CORD LOCK stays tight to either close pouch or conform around your bowl / colander rim. For taller bowls, you can fold the pouch over your bowl, cinch the cord lock tight, and your liquid will strain to the bottom of the bowl and you don't even need a colander!
16"X9" pouch made of 100% Organic Cotton
(GOTS Certified).
All the seams are sewn to the outside to ensure it's as easy to clean as possible.
PACKAGED IN CONVENIENT ZIP BAG for storing between uses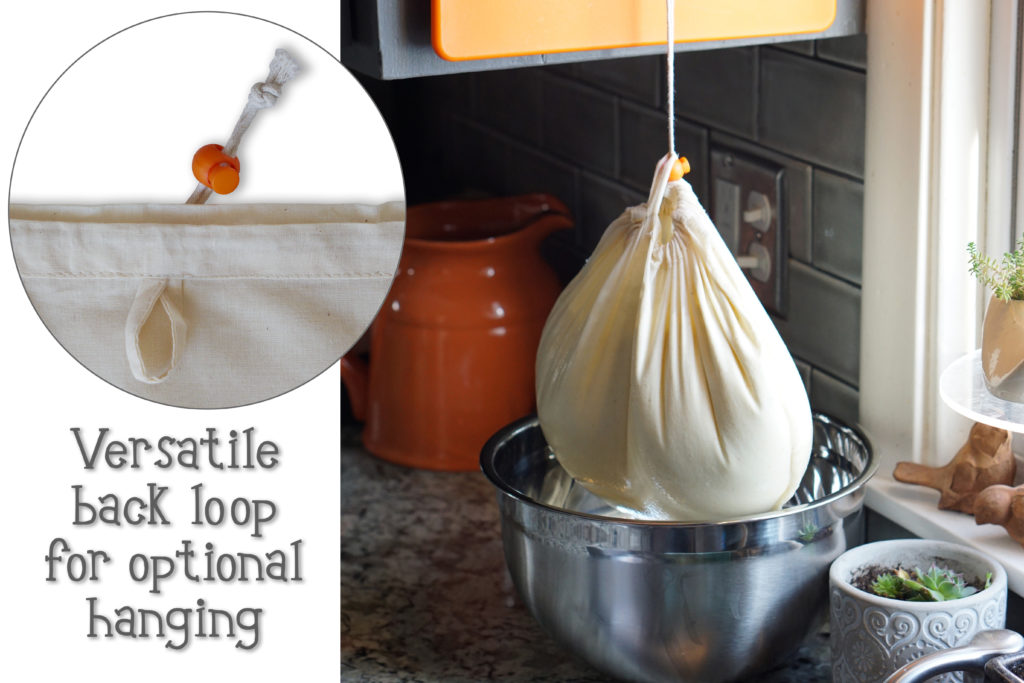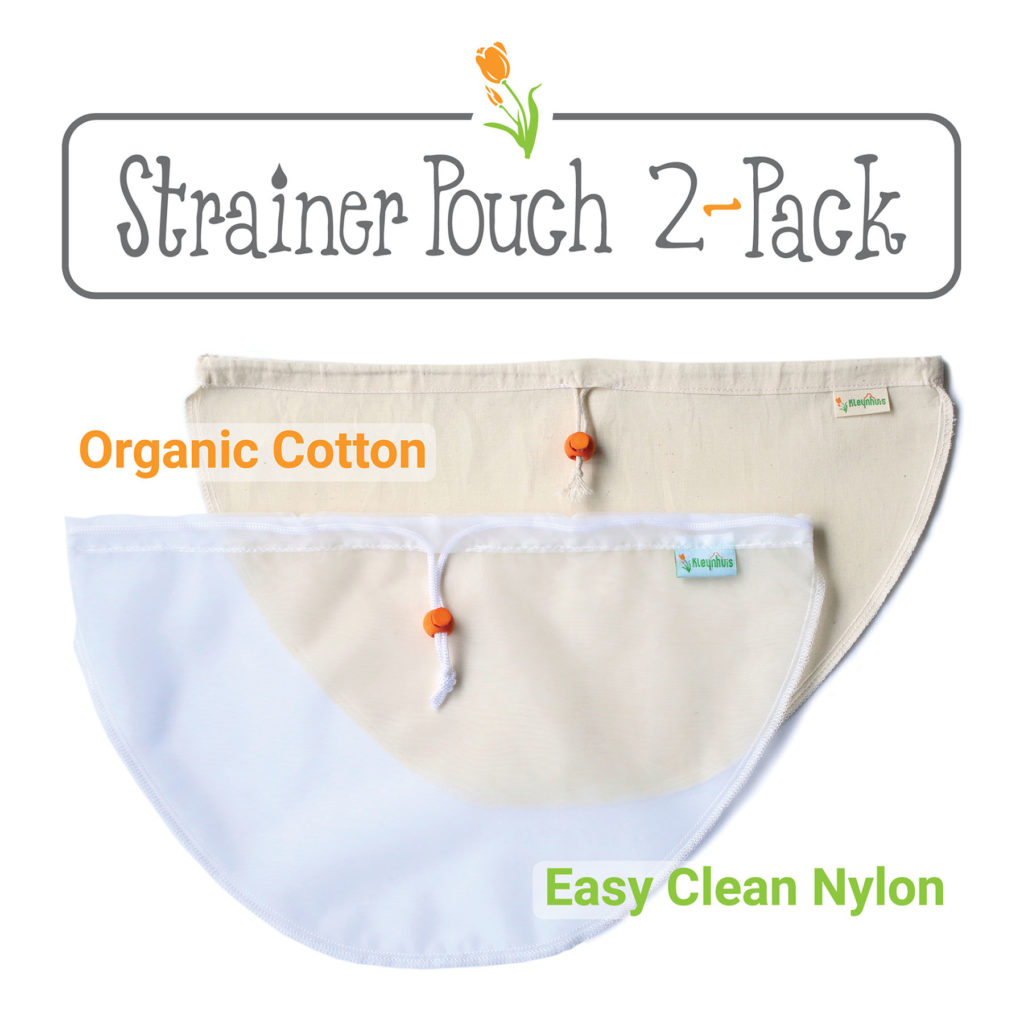 Kleynhuis Greek Yogurt Strainer Pouch 2-Pack:
Organic Cotton & 100 Micron Nylon
TRY THEM BOTH! This 2-pack has two 16"X9" pouches: 100% Organic Cotton (GOTS Certified) AND 100 micron ultra-fine mesh. They are packaged separately in their own individual zip bags.
How to clean your Kleynhuis Pouch
Product Description:
Finally, a reusable alternative to cheesecloth for Greek yogurt lovers! Turn any colander into an ultra-fine strainer. Simply line your  colander with this bowl-shaped, reusable strainer pouch and  spoon in freshly made yogurt. While the yogurt is straining,  collect the nutritious whey in a bowl or pan underneath and use in future healthy food and beverage recipes. Thick and  creamy yogurt is just a couple of hours away!
For years, I've enjoyed the nutritious benefits, creamy taste, and personal satisfaction of making my own yogurt. But, straining yogurt was always such a pain and I knew there must be a better way! So, I experimented with many batches of yogurt and how best to strain it; I designed and sewed the pattern for the original Kleynhuis Pouch prototype; I made more Greek yogurt and tweaked the design; and then I spent a year figuring out how to make this Kleynhuis product available to others. 
These are the reasons I think the Kleynhuis Pouch is better than any other straining method out there:  1) It's much easier to clean than cheesecloth; 2) It's designed to strain at least a gallon at a time; 3) It fits easily in any drawer; 4) It's not expensive; 5) The design fits most colanders/bowls that you already have in your kitchen.
So, no matter what method you use to make yogurt (crock-pot, oven, electric yogurt maker, Instant Pot, etc.), straining is the final step that will make your yogurt thick and creamy. Avoid any and all suggestions to add thickeners to your yogurt that will only alter the taste and require unnecessary additives! Don't let the pain of straining yogurt take the joy out of making your own yogurt! Homemade yogurt tastes better, is more nutritious, and costs less. I love Danielle's breakdown of reasons why you should make you own yogurt on her meal-planning blog, Project Meal Plan.
Kleynhuis Pouch Care Instructions: After using, turn the pouch inside out and hand wash with hot tap water and a mild, fragrance-free detergent (no bleach). Rinse, wring dry, and hang for a few minutes from your faucet so the sink catches any drips. Hang by the string to a cabinet door until completely dry. Nylon dries very quickly! Store in the handy zip bag to keep it clean until your next use. For stains, soak in warm water with 20% hydrogen peroxide. Wash thoroughly before first use.