My family knows that I can rarely follow a recipe verbatim. I'm always changing things up, so I wrote this As-You-Like-It Curry recipe just like I tend to cook, with a maximum amount of flexibility. Use the veggies you love. Add chicken if you like…or not. Depending on how saucy you would like your curry, adjust your veggie quantity accordingly. This recipe freezes great, so I recommend doubling the recipe and saving half for a rainy day (literally, because, wow does curry taste great on a cold, blustery day!).
One thing I don't substitute, however, is the brand I use for my curry. Since curry isn't a spice in and of itself (it's a mix of spices), various brands of curry can have vastly different flavors. Here are the spices used in the Frontier Curry Powder blend: Organic coriander, organic turmeric, organic mustard, organic cumin, organic fenugreek, organic paprika, organic cayenne, organic cardamom, organic nutmeg, Frontier organic cinnamon, organic cloves. I've used other brands of curry and haven't been nearly as happy with the results. The spice is the main attraction of this dish, so stick with the tried and true:
I'm often asked for this recipe after I bring it to potlucks or serve it to guests, so for all the friends and family who have asked for this recipe, here it is! Enjoy.
As-You-Like-It Curry
[One-page printable version]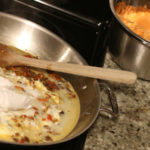 Print Recipe
As-You-Like-It Curry
A simple and delicious curry recipe with a license to customize.
Ingredients
3

tbsp

olive oil

1

small

onion

2

cloves

garlic

minced

2

tbsp

curry powder

be generous

1

tsp

ground cinnamon

1

tsp

paprika

1

bay leaf

1

tbsp

fresh ginger root

grated

1

tsp

sugar

2

tsp

salt

1

cup

plain Greek yogurt

1

can

coconut milk

4-6

cups

chopped vegetables

use your favorites

2

cups

cut up rotisserie chicken

[optional]

2

tbsp

lemon juice

1/4

tsp

cayenne pepper

2

cups

cashews

[optional]

1

cup

flaked coconut
Instructions
Cut up all veggies and set aside in bowls. Divide the veggies that take a long time to cook from the ones that take less time.

For example if you are using potatoes or sweet potatoes, they take longer to cook than asparagus and broccoli. 4 cups of veggies will result in a more saucy curry. 6 cups of veggies will result in a more stew-like curry. If you are like me and tend to be over zealous with your vegetables, you can always add another cup of Greek yogurt at the end to create more sauce.

If you are adding chicken, cut up about 2 cups and set aside.


Measure your spices (curry, cinnamon, paprika, bay leaf, fresh finger root, sugar, salt) into a small bowl and set aside.

Mix the lemon juice and cayenne pepper together in a small bowl and set aside.

Heat olive oil in a skillet over medium heat. Sauté onion and garlic until lightly browned. (If you are using red peppers as one of your

veggies, sauté this at the same time as well to bring out its flavor.)

Add spices and continue sautéing while continuously stirring for

1 minute.

Add yogurt, coconut milk and vegetables that take longer to cook (ie: sweet potatoes/potatoes). Bring to a boil, reduce heat, and simmer covered for 15 minutes or until the first set of vegetable are almost soft.

Add the remaining veggies and chopped chicken. Cover and simmer for another 15 minutes, or until all veggies are done to your liking.

Remove bay leaf, and stir in lemon juice and cayenne pepper.

Simmer for 5 more minutes.

Serve over rice, cauliflower rice, or

noodles. Top with cashews and/or

flaked coconut.